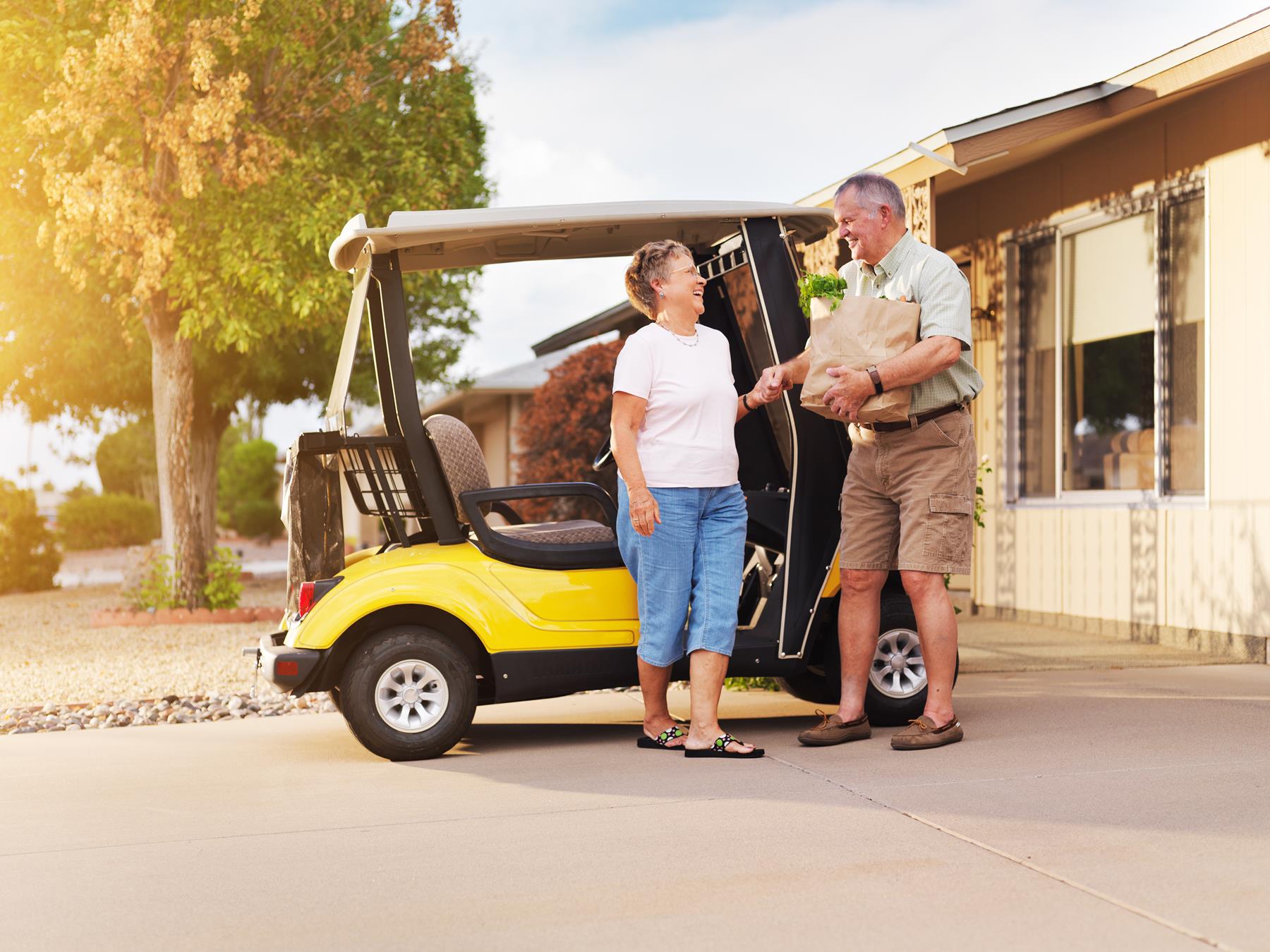 3 Golf Cart Accessories You Can't Live Without
If you live in or near The Villages, you may well use your golf cart as a primary means of transportation. We offer a full line of golf cart accessories, however we've found there are three accessories that golf cart users can't live without.
A "Soft Body" Golf Cart Enclosure
What do you do when it's raining? In Florida, we get lots of rain, and if you don't have an enclosure for your golf cart, you could be getting wet. A "soft body" golf cart enclosure is easy to store and pull out for use in case of an unexpected storm.
This enclosure also comes in handy on cool winter nights. We may not get the harsh temperatures, but Florida does have chilly nights and a golf cart enclosure will help keep you warm and more comfortable.
All About Carts offers a wide variety of colors that will coordinate with your cart. We also have sports colors so you can show off your team pride.
LED Strip Lighting
An active lifestyle in the Villages extends after dark. If you want to enjoy your golf cart in the evening, it is important to be visible at night. Our LED strip lighting ensures that your cart is visible. Safety is important, but can also be stylish.
Cooling Fans
While driving your golf cart you will feel a nice warm breeze, but Florida weather can be brutally hot. Having fans installed can help reduce your discomfort driving around on warm Florida days.
But Wait, There's More!
Here are a few other accessories that will increase your comfort and the performance of your cart:
Custom 10 or 12 inch wheels. Standard wheel size is 8 inches. Larger wheels improve the comfort of your driving experience.
Seat Belts. While not currently required, there is talk that Florida will soon require seat belts and we know that using seat belts is always a good idea for your safety.
Rear Seat Kits. Your cart can change with your needs. Adding seats to your cart gives you more flexibility and is less expensive than the purchase of a bigger cart.
Lift Kits. Now this is plain fun.
Side Mirrors and Windshields. Safety is important side mirrors and windshields provide you with additional protection and ability to see what is going on around you.
Engine Noise Reduction Kits for Gas Carts. This addition to your cart not only reduces noise for others, it makes conversations in your cart easier!
Deep Cycle Batteries for electric carts. Go further longer.
Horns.
Speedometers
Other accessories include sand bottles, coolers for drinks, washers for golf balls, baskets for carrying jackets or grocery bags for snacks.
At All About Carts, we know how important your golf cart is. We service EZ-GO, Club Car, Yamaha, Star, California Roadster, Tomberlin and Par-Car. We can help keep your golf cart on the road. If we don't have a part, we can order it and in most cases have it in 48 hours. Call us to day to schedule an annual maintenance or ask us about accessories that make using your golf cart safer, more comfortable, or simply more stylish.
For more information, and for mobile golf cart repair in The Villages, call (352) 409-2702.