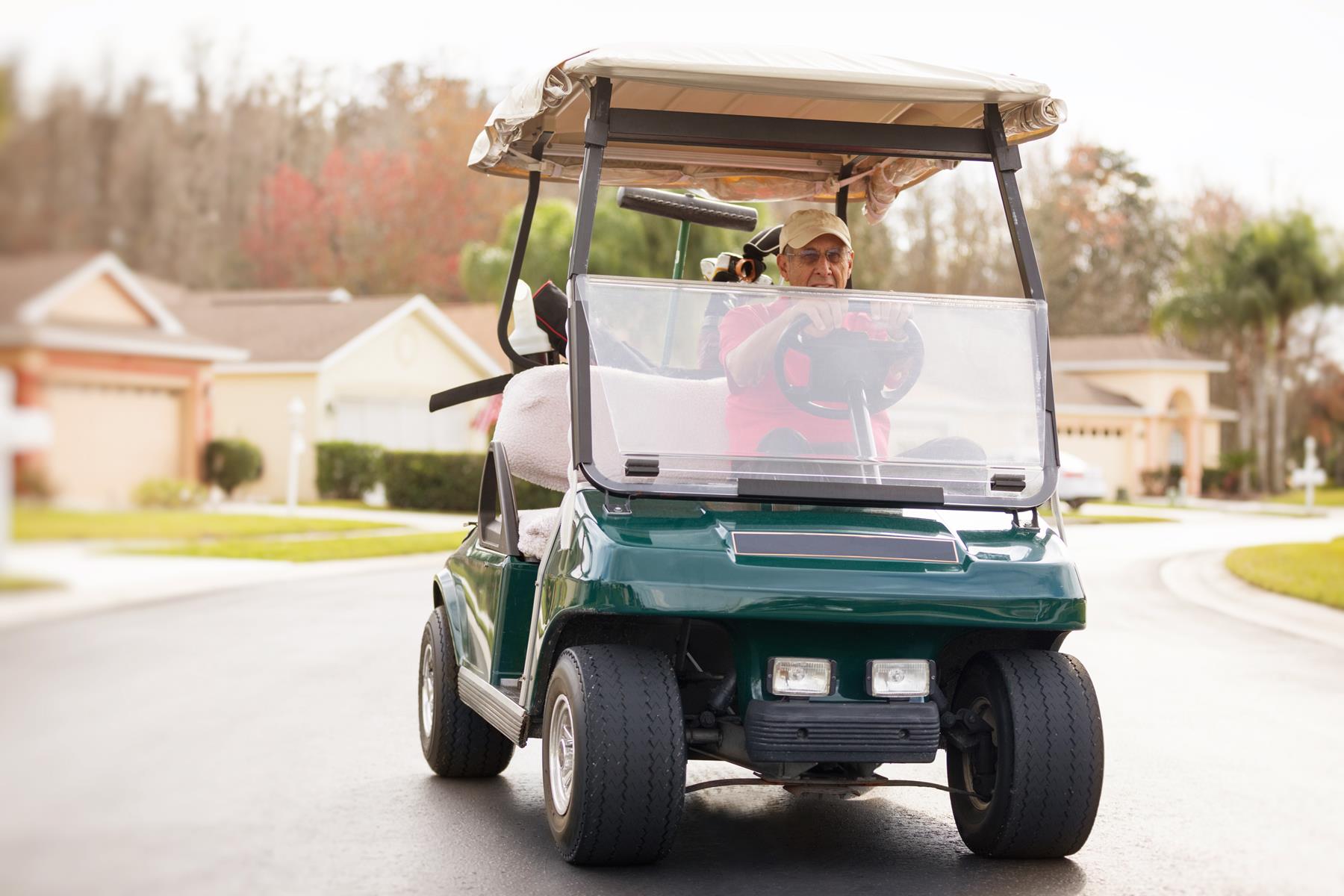 Maintain Your Golf Cart in 6 Simple Steps
If you live in The Villages, chances are you own a golf cart. We use golf carts for far more than playing golf, in The Villages; it's an alternative form of transportation. We use them to get our groceries, keep doctor appointments and go out on the town. You see golf carts everywhere!
Golf carts are an easy and fun way to get around, but like any form of transportation, they require maintenance to keep them running well and make your investment last. Whether your golf cart is battery powered or runs on fuel, keeping it well maintained is essential.
Here are a few tips to keep your golf cart running in top condition.
Cleaning Your Battery. If your golf cart is battery powered, maintenance is essential to proper operation of your cart. Be sure to keep the top of the golf cart battery dry, clean and tight. You can clean your battery with a bristle brush and a solution of baking soda and water, but be sure to wear proper eye protection and rubber gloves for safety!

Change Your Oil. The oil in your golf cart should be changed approximately every 125 hours of operation. We recommend a minimum changing your oil twice a year. Your owner's manual should provide you with instructions on how to change the oil in your cart.

Proper Electrolytes. Yes, you read that right, electrolytes. Golf cart batteries need the correct level of electrolytes to properly conduct electricity. It's important to make sure your batter has the proper amount of water to function properly. Overfilling can be as damaging to the life of your battery as under filling. All About Carts uses a hydrometer to test the state of charge for each battery cell and will measure the density of the electrolytes to determine the level of charge in your battery. Be sure to use only distilled water when maintaining fluid levels.

Tire Care. You can optimize the life of your golf cart tires by maintaining the proper air pressure. Over inflated tires will wear faster and unevenly. Partially deflated tires consume more energy and reduce your cart's range.

Brakes. Accidents happen and making sure your brakes are in good condition is a big step in prevention. Brake shoes, cables and hydraulic brake fluid should be checked at twice a year depending on usage.

Lubrication Schedule. Your golf cart manual will have instructions for specific lubrication recommendations. Most recommend lubricating the front suspension quarterly.
Like any vehicle, your golf cart needs regular routine maintenance. All About Carts has been providing mobile golf cart repair in The Villages since 2006. We understand that life in The Villages is active and vibrant.  That is why our slogan is "We Come to You!"
For an appointment, call 352-409-2702.
Our professionally trained technicians will come to you and service your golf cart, whether at your home or business. Our prices are reasonable and fair. Not only do we come to you, we won't make a mess on your driveway or in your yard.
Give All About Carts a Call today and keep your Golf Cart running in tip top shape!